Name:
Ashley/Ash/Ashiee up to you(:
Age:
16
Sex:
YES..i mean Female;D
Timezone:
GMT-8 aka PST(:
Position: Available- GameMaster/ Forum Moderator/ Coder/GFX
GameMaster(preferred)/ Forum Moderator
Experience for GM:
ElmoMS- Head GM small but quite fun server unfortunately got shut down :c
RaveMS- GM -accepted-
I was trial GM for a couple other servers, but did not like the community do to rude people I left before my trial was over.
Forum Moderator Experience:
Forum Admin- ElmoMS i created and ran their forums for them.
Forum Moderator-ItsuMS
Forum Moderator-School forums
there was one more but its killing me to remember the name of the forum/:
About me:
Well as stated above my name is Ashley(: I've been playing maplestory since 07 and private servers since 08. My first ps was DagonMS if anyone remembers that ;D besides maple I like to do a variety of sports. I do Varsity track, Varsity Soccer, Varsity Cheer and Varsity Pep. About to graduate next year c/o 2011!(: I am really easy to get along with and can deal with any situation you throw at me(: test me if you like ;D
Times Available:
Weekdays: 2:50pm-11:00pm
Weekends: 12:00pm-2-3am
(If I have plans they will be stated before to another GM ex: vacations, games etc)
What is your personal goal/aim for this server if chosen?:
My personal goal/aim for this server if I am chosen has to be to make the community more fun, and known. I want people to feel comfortable with their fellow GMs/Admins and other fellow players and not feel that they are going to be harassed because of their race, religion, or how they speak English. In California, where I live, it is a very diverse population, and everyone has to be accepting of everyone's personal cultures and not put anyone down for it.
Another goal is to get people to vote and get this server in the top 10 where it belongs. I have put suggestions for incentives in the suggestions category check them out(:
What makes you different from others applying for this position?:
I don't really know the community well yet, but I would love to get to know everyone here. One thing that makes me different I think, is that I don't tolerate racism or any type of prejudice to anyone. We are all human beings and we should be treated that way regardless of our skin color, how we talk, or where we come from. It hurts to see someone getting picked on because of race.
way of contacting you:
ashieeex3@hotmail.com
-msn
WOO FINISHED!
It was getting a bit too long, but I had a lot to say aha sorry.! Thanks for reading and considering my application for GM and forum moderator(:
Member





Posts

: 10


Join date

: 2010-05-12



Its a good apply.
But for applying for GM you need to play for at least 1 week.
But you still can apply for Forum Moderator at the moment.
At the 31th of May the new 2-3 GMs will be chosen.
If you are forum moderator, you have more chance though.
______________________________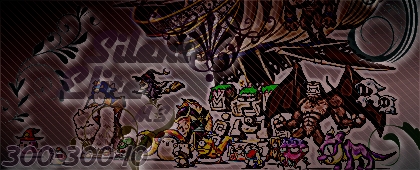 ~ Got pwned by Stan
Moderator





Posts

: 84


Join date

: 2010-05-04


Age

: 24


Location

: the Netherlands



Good App, GL


and stan how can she play for 1 week, Server isn't up.
GameMaster





Posts

: 54


Join date

: 2010-04-28


Location

: Rhode Island



Very nice application. Someone who has spent a little more time putting it together. I can relate to this GJ. Unfortunately, as Stan said, you need to wait a little. Server is currently down.
______________________________
Administrator





Posts

: 85


Join date

: 2010-04-13


Location

: under the sea



Oh I know I just thought of throwing it in there now so i can get time to play when the server is up, by the 31st it would've been a week ;D and i felt creative minded at the time xD
Member





Posts

: 10


Join date

: 2010-05-12



thats ok. I don't know how this is gunna go though..

about forum moderator. once it gets more crowded, i'll let you in. Stan is doing fine for now. BTW put the offtopic into forum category as the last one. I dont want a seperate.
______________________________
Administrator





Posts

: 85


Join date

: 2010-04-13


Location

: under the sea




---
Permissions in this forum:
You
cannot
reply to topics in this forum